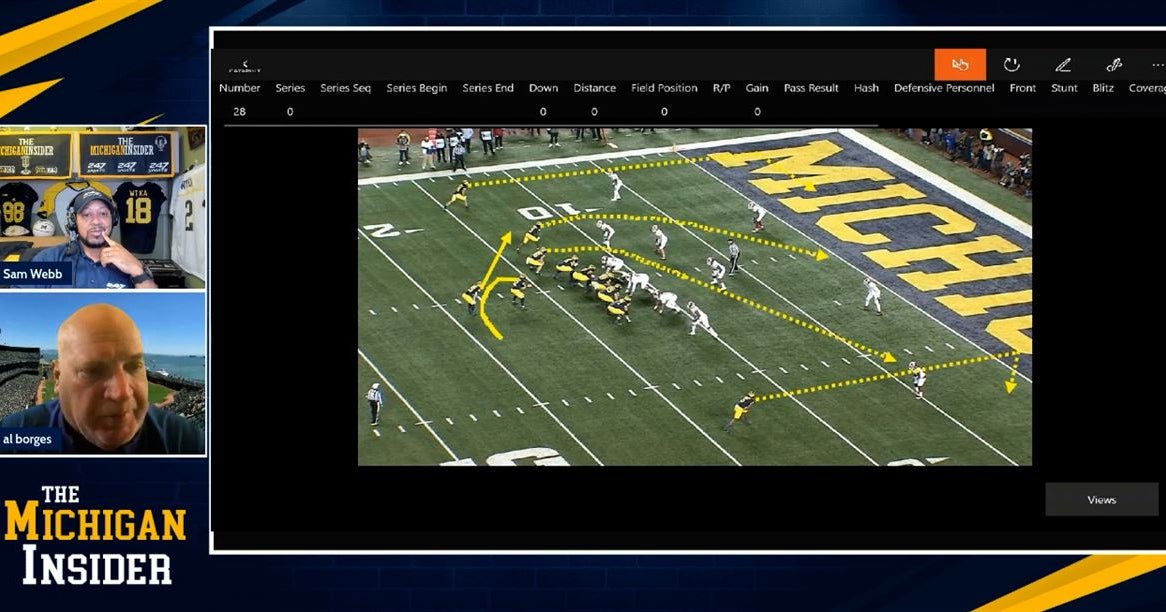 Good bounce, but still too many "self-inflicted injuries" in the red zone
[ad_1]
Each week, TMI's Sam Webb and former Michigan offensive coordinator Al Borges come together for the Michigan Offensive Film Review, a chalk discussion session breaking down the previous week's contest with a deep dive into the X and the O. Borges uses his decades of coordination experience to explain in detail, with the help of video telestration, the key pieces of the most recent Wolverines contest. To watch the latest episode in its entirety, tap play on the video embedded at the bottom of this story.
In this week's breakdown of Michigan's 29-7 victory, Borges detailed Michigan's sudden success in out-of-zone play, the encouraging signs in the passing game, the discouraging ones in the red zone, and the valuable experience JJ has gained. McCarthy.
"They played a good, solid football game," Borges said of the Wolverines. "Not as hectic as last week's game, but certainly as effective. And the first thing I noticed was inside in particular, guard against guard … I thought they were playing better. I thought this was a problem a week ago (compared to Michigan State). They weren't perfect by any means, but they played a lot better. And what was pretty cool was that they featured a different race … the outer zone play. Stretch play was a big big hitter for them. I wouldn't count that as one of their best three or four points heading into this game. We haven't even detailed this playbook today. But for me, it's a very good race for Hassan Haskins. A very good race because Hassan is fundamentally a unique runner. And the outside area is kind of a one-cut type game where you run at that tight end, move that second level, and then as soon as you see the defensive folds, you just put your foot in the ground and go. And then on a few of them, he didn't even have to. He had just run straight ahead and it was so tightly blocked it looked good.
"It was also good to see, for some reason, JJ directing a series of plays. They've packed it so far, and we've detailed it quite a bit. But in this game, he actually managed to perform a few back-to-back games. He shot them down and they kicked the basket. It wasn't the end result they wanted, but it was a real experience for me. When you play game after game after game. When you play here and there, it is also experience, but it is not the same as having to generalize the reader. He had to run, be in the huddle every play and handle the attack every play rather than just coming in for a little hit and run. So it was good for him.
"They always played their counter game. I think they run 12 or 13 counters were run in the game. So that was always an important piece. You know what I find really interesting, (and) we talked about it a bit … the creative ways they get to reverse. I can't wait to see this every week. They're still going to probably have two backhands in the game, and they'll never be the same as last week. It's going to be a different look. Some hit, some don't, but they all give the defense a lot of conflict over how to defend the advantage. "
"They actually fired a few shots. They hit a corner post, they hit a hole against cover-2, which was good and we talked about it a lot. But we still have too many self-inflicted wounds in the red zone. Whether it's a false start, whether it's a delay in a game, whether it's a bad run, protection failures and a few bad calls … coaches are always a part of it too. But something that motivated me was the use of the tight end in the red zone. Because the best games they played came to the end. And I've always been a huge supporter of If this guy has reception skills … they ran a naked bootleg, which we'll talk about. They ran a small stick route, both for the touchdowns. So I like to use the tight end. The tight end is always the closest guy to the quarterback, for the most part, when you throw the ball. I really, really liked that they took this step, and I hope it will continue. But for the most part solid performance. I came back to the wins column and (get ready) for Penn State.
Hit play on the embedded video below to see this week's breakdown.
Not a The Michigan Insider VIP subscriber? Register now and get access to everything TMI has to offer on all things Michigan and access the # 1 site covering the Wolverines.
Want to receive the latest Michigan news direct by email? Subscribe to The Michigan Insider newsletter here. It's free and it's a great way to get daily updates on football, basketball, baseball, recruiting, and more. of Michigan, straight to your inbox.
Sign up to receive FREE Text Alerts on The Michigan Insider to get the latest news on Commits, Clearances, Transfers, Injuries, Coach Changes and more with our NEW Text Alerts system available to everyone registered users and VIP subscribers. Click here to become a FREE registered user and Click here if you are already a VIP subscriber then follow these instructions to configure your SMS alerts.
[ad_2]